Your mind is made up and you've now decided to take the plunge. A sugar daddy is the route you'd like to pursue, and now you're ready to begin the hunt for the perfect match. But where does one begin this pursuit? Fortunately for you, there are several leading applications out there meant for connecting sugar daddies with sugar dudes, so there has never been a quicker or easier way to access plenty of available men for a sugar relationship. Here are the top 5 gay sugar daddy dating apps:
SUGARDADDY FOR ME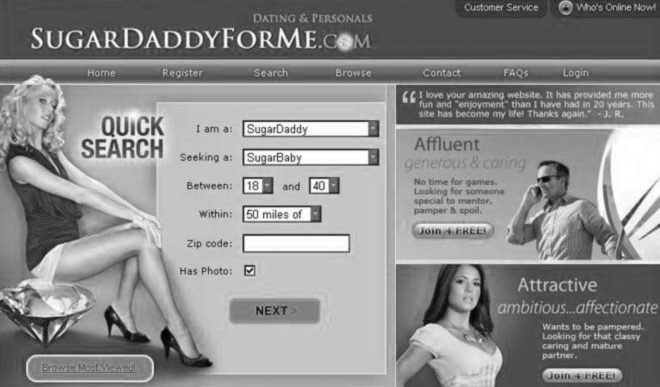 Our top choice, Sugar Daddy for Me is an all-inclusive website and application that is also not gay specific but totally inclusive. Sugar Daddy for Me uses an intricate advanced search to match users with the most appropriate sugar daddy placement. Sugar Daddy for Me boasts over 4 million users worldwide, and over 1,000 new signups per day. This can either translate out to Sugar Daddy for Me having lots of new fish in the sea to choose from or having to kiss that many extra frogs to find your (sugar daddy) prince.
GAY ARRANGEMENT
Coming in a close second, GayArrangement is a gay sugar daddy dating application that prides itself on connecting likeminded individuals built on a solid connection and arrangement. Their discreet interface is perfect for those wanting to fly a little under the radar with their sugar daddy hunting. Thousands of users use Gay Arrangement, making it one of the smaller apps, but definitely more personal. Joining is free, but extra features come with an added price tag for an elevated membership.
DADDYBEAR APP
Straight from Hong Kong, DaddyBear is a new gay sugar daddy dating app that is focusing on a more international connection with an influence thus far in the Asian market. A premium membership at a costly price is required to receive all of the benefits of this app, but basic users can search and match up with other users for free with basic features accessible. Chatting is very easy on DaddyBear, making connecting with daddies that much easier. Not being able to send or receive full size photos until you purchase full premium membership is definitely a downside to this app.
RUNNER UP… DADDY HUNT
Runner up: Daddyhunt. As their slogan goes, "Daddy Knows Best", and with Daddyhunt app, you know exactly what you are getting. With over 1 million gay men using the application, Daddyhunt has one of the biggest databases to choose from and has been around for more than 12 years. While not specifically a sugar daddy dating app, there are options to look specifically for a sugar daddy relationship. Facilitators of Daddyhunt do a fantastic job of monitoring and solidifying professional and respectful relationships on their application. Daddyhunt has the best customer service of any of the apps mentioned.
All in all, each of the 6 applications above are different and have different features from the other. Due to its functionality, accessibility, interface, customer service, and free price tag, GDaddy ranked first in this list, but each are noteworthy and reliable apps for connecting with sugar daddies. If you are looking for the sugar daddy of your dreams, look no further than the 6 apps above. With GDaddy, Sudy Gay, Sugar Daddy for Me, DaddyBear, GayArrangement, and Daddyhunt, you'll be certain to find a sugar daddy in no time. Happy hunting!